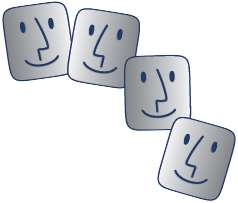 Agenda for July 26
We held the July 26 MacDayLA at Busby's on Wilshire.
5364 Wilshire Blvd., Los Angeles, CA 90036 (2 blocks west of LaBrea)
This schedule is approximate, for general planning and is subject to change.
There are break between segments, but you are always welcome to leave the room for a break or a snack and to bring it back in as well.
Personal demos
& Sales
The Axiotron Modbook™ — an Apple-sanctioned MacBook-turned-tablet with a host of features.
If you've been wanting to try this tablet for yourself, here's a great chance to. They're planning some demos for you too, at their table all day long.

~ ~ ~ ~ ~ ~ ~ ~
Klassic Specialties
When it come to printing your Mac creations, you're not just limited to plain white paper or photo paper. You may be amazed to see the variety available to you. Klassic Specialties wowed Deb back in '95 so I've asked them to come share with you.
Paper will be available for sale too, so come ready to expand your printing experience and take home some interesting papers.
~ ~ ~ ~ ~ ~ ~ ~
For ALL PERFORMERS!
Deb wants you to see this!
PerformerTrack
Career management web-based "software" for all entertainers and professional speakers.
PerformerTrack allows you to easily log auditions & callbacks, track bookings, record career income & expenses, and manage your contacts in a simple, effective manner.
It has long been used by actors on the PC and Palm and now comes to Mac users. And because it's web-based you can use it on your iPhone too.
PerformerTrack will have to leave around noon so be sure to come early to see this!
~~~~~~~~~~
Between presentations we will enjoy music by these bands:
Javelyn
Chris Valenti
Nick Dastardly
Phil Marcus
Stars Go Dim


10:00 am
Check-in begins, onsite registration opens
Socializing and networking to the background tunes of artists hand-picked and mixed by Javelyn.
Visit vendors who are her for the day to help you:
For actors & other performers this is a perfect time to see PerformerTrack.
Try the Axiotron Modbook & see demos on it
Visit Klassic Specialties, learn about the wide variety of inkjet papers that can add to your art and photo prints, and purchase at the best prices.
Ian Schray will also be available all day before and after his Freeway presentation.
10:15
Q&A
Socializing and networking in the social areas
10:30
Welcome, introductions
The iState of Apple - panel
Thinking of buying a new Mac and wondering about your timing? Wondering how your stock is doing? Want more told-ya-so albeit belated snappy comebacks to serve those friends who told you Apple was dead year after year?
Join us as our punny pundits look at Apple news, patents, model updates and releases — and share opinions on many things Mac.
What's happening at Apple?
Is it the right time to buy that new Mac?
Not just what's new in Macs, but what that means and how it matters to you.
11:30
PerformerTrack

With LA being the home to so many performers, we figure we owe it to you to introduce you to this brand new, just-out scheduling program. Created by a professional actress and comedian for themselves and their peers, this web-based application covers everything any performer needs to track. Starting with your first call and going through the performance, it helps you keep track of everything from what you wore, to who you worked with, to what you spent and how to categorize it for taxes. They're really thought of everything.
This will just be a quick tour; they'll be set up outside before and after this to show you in detail or to get the info to tell your friends.
Stretch Break
11:50
Easy Website Creation with Freeway 5 Express & Freeway 5 Pro

In this easy-going intro to these powerful web site building apps, you'll see how you can start with a blank page, design a professional-level web site and easily publish it. If you're seeking a web presence and use a Mac, you should see this.

Prize drawing by Ian for a copy of Freeway Pro and maybe Freeway Express, too.

A personal note from Deb:
As author of the GoLive 5 Bible, the Mac Design GoLive column, and other web design writings, I'm well on the record as a GoLive fan. With GoLive officially dead, I've been looking at alternatives.
I believe Freeway is robust, mature and flexible, while being very easy for anyone to use. Need power web page features? They're in Freeway, too.
If you've created a layout in Claris/AppleWorks, Pages, InDesign, etc, after you see this demo you'll be ready to roll in Freeway.
I'm excited to have Ian Schray, Freeway's US Marketing Manager, come down from Portland to show this to us. (I grilled him about Freeway before deeming him worthy of our time.)
After-the-fact amendment: I did not disclose this in July, but I was working on a review of it for Macworld magazine. You can read my review of Freeway at Macworld.com.
12:50
Q&A
You bring your question. We'll do our best to get you an answer.
1:00
Lunch and Table Topics (or socializing)
Table Topics are expert-facilitated mealtime discussions. If any topic interests you, you can order lunch, then join the group. Bring your questions, share your experiences, pick up tips, and broaden your knowledge. Even if you don't know anything about the topic, you can learn by listening to the discussion.
Each month some of our favorite LA-area experts pick a topic to host, providing a wide array of topics for you to choose from.
July topics include:
Using Freeway 5 Express and Freeway 5 Pro — hosted by Ian Schray
If you saw Ian's live demo earlier and have questions, this is an excellent opportunity to learn more.
Blogging — hosted by Tyler Regas
Come discuss blogging: share your own blogging finds or learn from Tyler and others. How to get set up with a free or paid account, how to get WordPress set up, installing plugins and managing themes, and keeping it up to date.
The Mac for Actors — hosted by Denise George
If you're an actor and wondering how to use your Mac to do something thespianic, you'll get a lot out of this discussion session.
Beginners — hosted by Chris Keller
So Ya Want to Buy a New Mac... — hosted by Bruce Brown
Thinking of upgrading to a new Mac or getting your first Mac? Want help deciding which Mac is best for you? Join this discussion for an unbiased, objective assessment of what best meets your needs.
MobileMe — hosted by Bruce Gerson
.Mac becomes MobileMe on July 10th. Not just a name change, but features as well. Join Bruce to share your experiences and learn from his and others.
Digital Photography — hosted by Chuck Behrman
Have you gotten into digital photography and found you have questions, wonder about something? Want to get opinions from others about some aspect: equipment, software, process...? Join in. Ask, share.
Producing music on the Mac — Martin Blasick, Professional Musician
More topics will be announced
Of course you're not required to join a Table Topic. Perhaps you prefer to sit with new or old friends, peers, etc. Or maybe play a free game of pool since we're at Busby's.
2:30
The Church of Mac — Live!
The Rev. Doctor Bobby Newton — the "altar" ego of actor and former Mac Genius Tony Edwards — is the spiritual leader and techonological guide of The Church of Mac.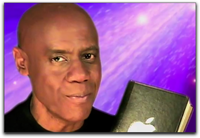 Dr. Bobby's mission is to spread the good news that salvation is available to all who accept Apple as their personal computing platform. The Church of Mac is an irreverent spin on the culture of Apple.
You can catch The Church of Mac online any time but at MacDayLA you get to see Dr. Bobby live and take part in it.


2:40
Setting Up Your Wi-Fi to be Safe — Scott Immerman
In May we looked at what it takes to remain safe and keep your private information personal while using public wi-fi. This time we'll be talking about keeping your own network safe.
Thinking you don't have a network? If you have a DSL or cable modem, you have a network. If it gives you internet without your computer being connected by an Ethernet cable, you have a wi-fi network.
3:30
Stretch break and Q&A
Another opportunity to get your miscellaneous questions answered. Or go out and stretch your legs, get a drink, hit the loo, or call your friends to tell them what they're missing.
3:50
iPhone 2.0 — Liana Lehua & Scott Immerman
1 year, 1 month, and 11 days after the first-ever, ground-breaking iPhone, Apple will deliver unto us iPhone 2.0 software and its second generation iPhone. We have a couple of weeks to, explore, deploy, and shake it out so we can give you the lowdown on the what and how of the iPhone tao.
What does the 2.0 update do for your iPhone?
How do you buy and install apps?
What are the no-brainer apps we'll want?
Should you buy iPhone 2 or a used first gen?
What's the story with its GPS?
What's the reality of the new internet speed?
4:50
Prize drawings
There are always great prizes to be won at an event by Deb Shadovitz!
5:00
Mac Efficiency™ Live with Deborah Shadovitz
Deb's been saying it for years...
"The newest, fastest Mac in the world won't help you if you can't find your files when you need them, and it's kind of wasted if you're taking the long way around whatever you're doing."
The Mac is the best darned computer OS out there. Deb's specialty is showing you how you can get the most out of it.
An hour with Deb will teach you how to save many, many hours of time on your Mac or show you ways to work better and look better to others. MacDayLA came to life in part because of people's requests for more Mac Efficiency Live from Deb, so each MacDayLA will feature a Mac Efficiency segment.
6:00
Social Time & Networking
If you'd like to stay and socialize for the evening, we invite you to join some of us in one of the Busby's lounges. There are pool tables and other games, and bars where you can purchase food and drink. Perhaps you'd like to invite friends to join you.
Oh, and...
You never know when we'll squeeze in a game so if you have an iPod full of music, bring it along and you might just win a prize.
 Remember, you can
learn about each of our experts on our Experts page
.
It'll be a while before we get the photos of this day up onto this page.


This page was last updated July 18, 2008.