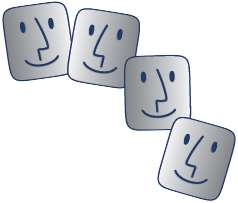 The second MacDayLA was Saturday, May 31, 2008. (Not the 4th Saturday as that was Memorial Day.)
Personal Demos and Sales
Visit the Scan-Van!
And bring your prints!

1888ScanVan
is bringing their 31-foot hi-tech scanning and digitizing facility to us
They're giving free scans
of 50 4x6 photos
for about 40 attendees.
Details here.
~~~~~~~ 
PerformerTrack
Career management web-based "software" for all entertainers and professional speakers.
PerformerTrack allows you to easily log auditions & callbacks, track bookings, record career income & expenses, and manage your contacts in a simple, effective manner.
It has long been used by actors on the PC and Palm and now comes to Mac users. And because it's web-based you can use it on your iPhone too.
~~~~~~~ 
Hawking Technologies
will be showing their brand new (2nd generation) wi-fi adapter. It's Dual Antenna Dish Technology for enhancing wireless performance — both speed and most importantly, range.
8:30 am
Registration opens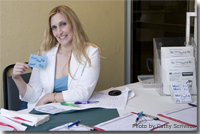 Carla's Cafe food service opens to serve you.
The Scan Van will be on the lot to start scanning the photos of some of us who arrive early.
9:00
Breakfast & Breakfast Table Topics
Breakfast Table Topics include:
10:00
In the Presentation Hall.


Question & Answer
Have your Mac and Apple product questions answered by our experts and fellow audience members.
Food service remains open. Grab a snack or drink and bring it back to the Presentation. The Scan Van remains on site. Both for the entire day.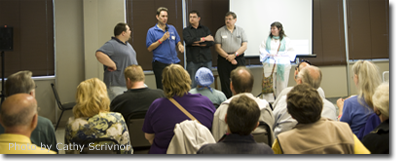 10 :30
In the Presentation Hall.


Photography is the topic with Scott Bourne is our guest speaker
Scott, an award-winning photographer and autor of several photography books and courses, will begin by showing us some of his current work.
Then he'll discuss some of our options in Mac photo software — Lightroom, Aperture and Photoshop.
He'll show us his workflow in Aperture.
Then he'll share some basic tips for good digital capture.
And, of course, we'll give you some Q&A timewith Scott.
You can learn about Scott on our Experts page, and as you anticipate meeting Scott on May 31st we invite you to visit This Week In Photography (TWIP).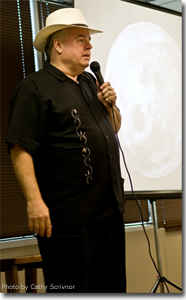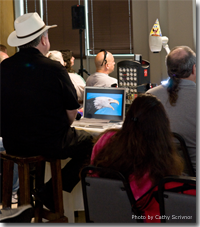 11:40
Spreadsheet or database?
Which is right for your particular task? — Anton Anderson
That project you're working on... What are you using to track the data? Would a spreadsheet help? Would a database do a better job? Anton has been helping people organize and track data for all of his adult life, and brings us some of these critical insights to help you get your projects under control.
iPhone: Tips for Making Your iPhone Your Most Helpful Travel Companion
— Liana Lehua
Have you ever turned your iPhone to open Google Maps for some much needed direction in an unfamiliar city only to have it hang blank on for lack of an EDGE connection? Oh. No wi-fi is available either? Yeah. Liana, too. Liana will share her tips for optimizing your travel experience using your iPhone as your trusted guide.
In the meantime, for useful iPhone and technology news, reviews and tips, you can visit her at the Apple Phone Show and Girls Gone Geek.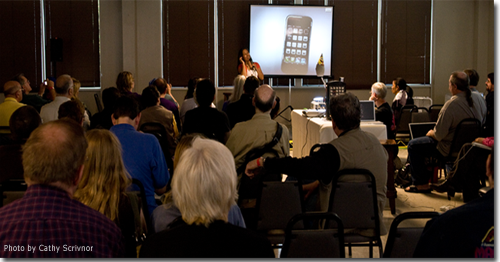 The Reality of the Air — Deborah Shadovitz
To behold the MacBook Air is to want one. It's thinner than you ever imagined a notebook could be, it's so bright you can use it in a moving car on a bright sunny LA afternoon, and holding it with just 2 or 3 fingers you realize how durable it is.
But then you wonder... could you live with only one USB port and no FireWire? Wouldn't you miss a DVD player? What about needing more RAM? So we'll take a good look at the MacBook Air. We'll bring up all the potential issues with it and see if we have solutions, or if they really do matter to you in the long run.
1 - 2:30 pm
Lunch & Lunchtime Table Topics
Table Topics include:
Photograhpy — hosted by Scott Bourne & Liana Lehua
Using .Mac — hosted by Chris Keller, ACN, Consultant Alliance
FileMaker/Bento — hosted by Anton Anderson, ACN, Certified FileMaker Consultant
iPhoto for organizing your photos — hosted by Rick Thues, ACN, the iMentor
Photoshop, Lightroom, digital post-processing — Michael Pliskin, Pro Photographer
Apple TV — hosted by Scott Immerman, ACN
Producing music on the Mac — Martin Blasick, Professional Musician
(And don't miss hearing Martin perform at our party later!)
Email — with host Bruce Brown, Mac Consultant
Beginners — hosted by Elena-Beth Kaye, ACN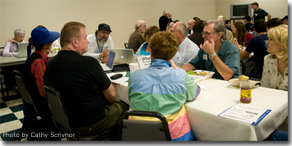 2:30
In the Presentation Hall


The Church of Mac — Live!
The Rev. Doctor Bobby Newton — the "altar" ego of actor and former Mac Genius Tony Edwards — is the spiritual leader and techonological guide of The Church of Mac. Dr. Bobby's mission is to spread the good news that salvation is available to all who accept Apple as their personal computing platform. The Church of Mac is an irreverent spin on the culture of Apple.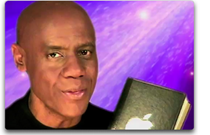 You can catch The Church of Mac online any time but at MacDayLA you get to see Dr. Bobby live and take part in it.
"Rev. Dr. Bobby had the whole room calling out "Praise Jobs!" and "Amen brother!" What a great way to top off an excellent day of information!"
~an attendee
What You Should Know When You Use Wi-Fi — a panel discussion
When you access the internet without cables you're sending all of your requests, web site access, and email through the air. What should you be aware of when you're communicating wirelessly. What information can someone discover about you? What is safe to do or not do?
Join us for this engaging discussion full of information you're bound to benefit from.
Our wi-fi experts:
GarageBand in Real Life — Martin Blasick
Since 2003 we've been hearing how we can easily create our own music on the Mac using this incredibly inexpensive (even free) software. But do you actually know how to do that? Professional musician Martin Blasick will start by plugging in his midi controller and launching GarageBand, the take us along as he composes an original song and fleshes it out.
A Good Look At AppleTV — Scott Immerman
Now that the DVD platform war is over you know to go Blu-Ray. If you want DVD, that is. But before you buy that Blu-Ray DVD player... have you looked at the alternatives? We'll take a good look at how AppleTV may suit you.
How to make your own Teleprompter — Tony Edwards
The secret to acting in front of a camera is making eye contact, but sometimes there are far too many lines to memorize. The trick is to use a teleprompter — and there just happens to be teleprompter software for the Mac. But there's more to the set-up, and Tony Edwards, former Apple Genius and credited film actor will show us his.
Prize drawing
6:30
We'll move into Carla's Cafe to round off the day.


Social Time! — an evening of socializing, live music, food & drink.
Carla's grill will be open for a while so you can buy dinner.
We'll have a cash bar so you can enjoy beer, wine, and hard liquor for most of the evening.
Oh, and...
You never know when we'll squeeze in a game so if you have an iPod full of music, bring it along and you might just win a prize.
 Remember, you can
learn about each of our experts on our Experts page
.
Thank you to Cathy Scrivnor for taking photos of the day for us.


This page was last updated 5/22/08.