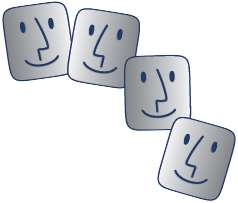 Special Discounts for MacDayLA Folks
1-888-ScanVan Offers You Free Scans on May 31!
How's this for an offer?
FREE PRINT SCANS!
On May 31 we're hosting the Scan Van — and they'll be doing free scans of 4x6 photo prints on site and providing a 10% discount on other services.
See this page for details.

Previous offers
TopXNotes
The fast, simple, efficient way to take notes on your Mac — and even get them onto your iPod.
On March 22, attendees got to learn all about it from it's creator, Jim Lee and try for themselves, then buy it at MacDayLA and get $10 off!
That's TopXNotes by Tropical Software, Tropic4.com
---
PrintFest 2008
In March we offered special pricing for PrintFest which takes place at the Anaheim Convention Center.
We also gave away full tickets as prizes.
---
The Mandala 2.0 — the smartest thing you'll ever hit with a stick!
The drum that you play into your Mac (or PC) as just about any instrument.
On March 22, 2008 attendees were able to cme see it and try for themselves and buy it for special price $299.
---
This page was last updated 6/4/08.