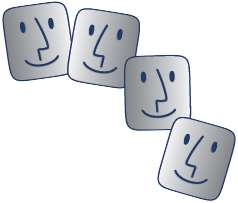 MacDayLA is:
Things we need to learn, software & hardware presentations, and tips.
Active demos that actually teach. Not hours of slides.
Mealtime Table Topics — Expert-moderated discussions.
Buy your lunch, bring it to a table & join in. Bring up issues. Ask questions. Listen & learn.
We have several tables, each with an expert host.
Question & Answer — with experts & audience participation to provide solutions
Visiting Vendors — A few select vendors demonstrating & selling onsite.
(Please understand this is not a expo. We produce the MacGathering™ for that.)
Apple/Mac-related news discussion — Hear about the latest in the Apple world.
Networking opportunities — all day!
MacMixer™ — An Evening of Networking & Socializing.
Film-makers can meet music people, business folks & programmers can meet graphic designers, hook up with a tech person, and so on. Where else can you all come together like this.
Prizes! — Chances to win terrific products
An unsolicited note from the President of one of SoCal's longest-running Macintosh User Groups.
Hi Deb

Here's a summary of the benefits MacDay LA has already brought to MacValley. This email shows people the reasons why I am such a supporter of both you and MacDay LA. The work you are doing benefits all User Group members and their hardworking group leaders.
These are some of the dramatic benefits MacValley has already gotten from MacDay LA:
New ideas and information. The Q&A at MacDay LA has some extremely knowledgeable people answering questions about Macs.
Fine presenters. After attending two meetings of MacDay LA, we have already had two great presentations at MacValley's General Meetings.

In July Deb Shadovitz showed how us to organize our desktops, improve efficiency, find things more easily, and in general, get a lot more done in less time on our Macs. This was one of our most popular presentations of 2008. It was like getting a free upgrade for our Macs.
And at our October meeting, Chris Keller unlocked the secrets of Apple's new Mobile Me, which had all kinds of valuable information on making the most of what has been a difficult transition period for .mac users.
And we have two more MacDay LA presenters coming up:

At the November 5th general meeting, Anton Anderson will present Filemaker's new program, Bento.
And in March we'll have the hilarious and informative Reverend Dr. Bobby of the Church of Mac presenting ways of getting that old devil email under control. (Say hallelujah! Praise Steve Jobs!)

And perhaps best of all, we all get to meet and talk with users and officers from other Mac User Groups. Outside of Macworld, we hardly ever get a chance to do see each other.
These are just a few of the reasons why I regard MacDay LA as one of the most valuable resources any User Group could ever have. Deb's wholehearted support of all Mac User Groups is both inspiring and energizing. And I feel our group's presentations have been definitely upgraded because of Deb and Macworld Expo.
Deb, your energy and your dedication to the Macintosh and to all Mac users is an inspiration to us all.
Thanks so much for bringing us MacDay LA.
Cristael Bengtson
President,
MacValley Users Group
P.S. If you like, please feel free to post this on the MacDay LA website. Maybe there are more MacUser Group folks out there that might be interested in gaining benefits like these. And this is going in my President's column for the November MacValley Voice.
  You shouldn't miss a MacDayLA because...

MacDayLA™ is the only event of its kind in Southern California.
the energy, excitement and new information will make your day.
people have been asking for a large Mac meeting like this for years.
there is so much great software and hardware to discover for the Mac.
you can have one-on-one conversations with the people behind the products, vendors, etc. and provide real feedback about products or features you would like to see.
the knowledge you gain will make you the envy of all your friends.
you can get recommendations and insights about products that interest you.
the tips you learn will facilitate projects, save time, and help advance your career.
you are not confined to a presentation hall — step out for a side conversation or vendor visit.
it is a win-win situation — simultaneously a great value for attendees and rewarding for our vendors.
there is something for just about everyone — and lots of prizes.

This page was last updated 10/7/08.