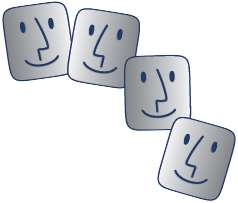 I had a blast.
There was stuff to keep me busy the whole day :)
I laughed while learning.
So much info — and from such experts!
Great event!
We rely on

Broadband Access
to get to the net.
Reliable, fast, secure.
I
n May
musicians received
Joesoft's HEAR
to better enjoy
music on their Macs.
S
peakers received other helpful
software by Prosoft


In July all attendees received Bongo Ties.




Thanks to Radtech.
Attendees asked
to donate to
help us grow so...

MacDay LA™ — a day full of fun & knowledge
(from 10am - 5pm+)
The idea is simple:
We put together a day full of interesting Mac/Apple-related things to learn and discuss. You arrive at any time, pay one cover fee, and sit in on the sessions that interest you. During the other sessions, step outside of the presentation room and hang out in the socializing areas where you can visit our guest vendors, talk with our experts or other attendees, network, or grab a bite.

MacDayLA is:
Active demos that help you discover software and streamline your learning curve.
Mealtime Table Topics — Expert-moderated discussions about a variety of topics.
Question & Answer — with experts & audience participation to provide solutions
Visiting Vendors (at times) — A few select vendors demonstrating & selling onsite.
(Please understand this is not a expo. We produce the MacGathering™ for that.)
Apple/Mac-related news discussion — Hear about the latest in the Apple world.
Networking
Prizes! — Chances to win terrific products
When & Where
A Saturday afternoon
with networking afterward
every couple of months.
Next: To be announced.
We'd like to hold an event Saturday, Nov 20, 2010 in time for holiday gift discussions and demos and to offer you some special pricing in time for the holidays. All we need is a location around mid-Wilshire or downtown. If you have room for 50-100 people let us know, please.
Location:
We're looking for one, aiming for mid-Wilshire or downtown.
Cost
Approx $15

Children 15 and under — $5. Pay for them at the door.
Note: To pay by credit card you must pre-pay online.
We can only take cash at the door.
Admission does not include food or drink.
Breakfast, lunch and dinner are available when appropriate.
Admission includes entry into our prize drawing and party.
Networking
We invite you to stay for the evening and do some great networking or just socialize.
Things to Know
It's hard to plan an event. Please RSVP as soon as you even just think you'll attend.
Or better, pre-register — make the commitment so we can create the best possible event.
To pay by credit card pay online from this page; we cannot take cards on site.
If you can't make it, your money isn't lost; we'll save it for the next MacDayLA you attend.
Children are welcome. Those under 16 cannot be left unattended and should not disrupt sessions.
You may not solicit presenters or vendors for free items.
Attendees may not sell products or services to other attendees.
Only our approved presenters and vendors may place product materials.
You may not bring your own food or drink. There is ample food for sale.
If you have a dietary concern please email us so we can work with you.
You agree not to hold our venue or the MacDayLA producers or volunteers responsible for anything that may happen to you or your property while there.
Let us know what you'd like to see!!!
We want to hear from you. This is your event as much as ours.
Is there a product you want us to show, a vendor you want invited?
Do you have a suggestion for a class?
Do you have a topic you'd like for Table Topics?
Let us know! Let us know! Let us know!
A word to software, hardware, and other companies
MacDayLA™ was born out of numerous requests from both Mac users and the makers/sellers of Mac-related products. We do not charge our feature presenters. In addition to featured presenters, we can host a few vendors who wish to show/sell Mac-related products. There is a small fee to do so and we must be familiar with your products and feel able to recommend them.
Interested in sponsoring or being a vendor at MacDayLA?
Please Please write to Muna.
Interested in presenting at the event?
Please write to Deborah.
Questions?
We don't want to leave you wondering so if you have a question not answered here yet, Please write to Deborah.

This page was last updated Nov 2, 2010.