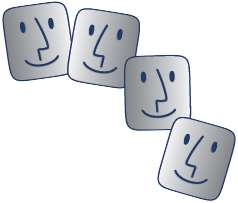 Agenda from our March 22, 2008 Premiere
8:30 am
Registration opens
Carla's Cafe food service opens for the morning folks.
Personal Demos of selected products begin at Carla's:
TopXNotes  •  Modbook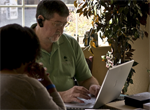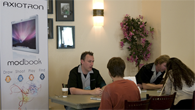 9 - 10 am
Breakfast & Breakfast Table Topics
Beginners & Prospective Mac Owners Table
, with host Bruce Brown
Freeware, Open Source & Shareware tools
, with hostess Allison Sheridan
Using Wi-Fi & Wireless
, with host Mark Hartman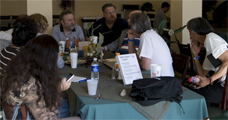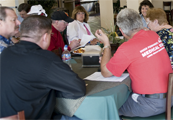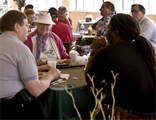 10 - 11 am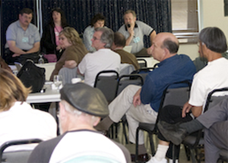 Question & Answer
With experts Bruce Brown, Elena-Beth Kaye, Allison Sheridan, and Mark Hartman

Tip Time: Digital Camera Choices & Options: things to be aware of when you're buying or shooting — by Chuck Behrman
11 - noon
Get to Know Bento
— a new concept in databases by the maker's of FileMaker Pro.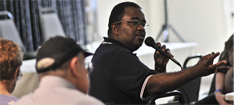 With Bento building a helpful powerful database is simple. Wondering if it can meet your needs? Let long-time professional FileMaker developer Anton Anderson answer that question with this educational what, why and how demo.
12 - 1 pm
The Mandala 2.0 — the smartest thing you'll ever hit with a stick!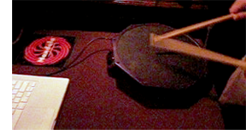 Hit a drum in different places and you hear different sounds. Now Synesthesia's USB electronic drum and synthesizer hears and feels you too. With their patented position sensitive membrane switch, its surface detects 128 strike positions. It knows where and how hard you hit it no matter how fast or how powerfully you play — with sticks or fingers. But there's more. It can sound like whatever you want it to because not only does it come with sounds and effects, but it is able to connect to your Mac (or PC) and trigger any samples you can get your hands on.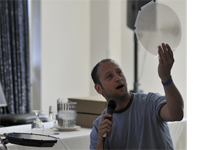 They'll start by taking it out of the box so you'll get the whole story. Afterward, we'll have 2 drums set up in Carla's Cafe so you can try them for yourself and have the entire experience.
You can't find the Mandala in stores yet, so this is your big chance to see it, learn about it, and try it yourself.
They're even offered special pricing — only $299 — for us to buy right there!
1 - 2 pm
Lunch & Lunchtime Table Topics including:
Beginners Table
, with hostess Elena-Beth Kaye
Digital Photography
, with host Michael Pliskin
Podcasting
, with host Victor Cajiao
Buying Anything Apple
, with host Bruce Brown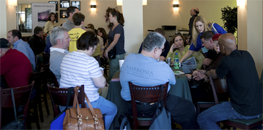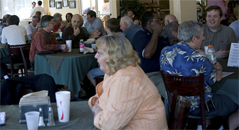 LIve demos of the Mandala begin and are available through the afternoon.
2 - 5 pm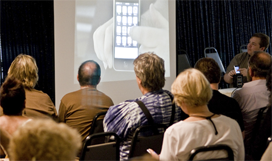 Extending the iPhone — The presentation you can't get at any Apple store.

Wondering what you can do with an iPhone, besides make calls from a properly labeled address book, a great photo album, a true browser and all the other build-in features you've been hearing about since last June? Apple can show you plenty online or at their stores, but wait'll you see what Scott Immerman shows you! iPhone, the the Alcatraz edition. No, we didn't just say that. We meant to say, consider this a preview of what your cellular life can become this June.
Easter Egg Toss — eggs of a different kind. Everyone went home with a Bongo Tie and many went home with other prizes as well.
Modbook — the Axiotron Modbook
Did you know there was a Macintosh Tablet Notebook?
A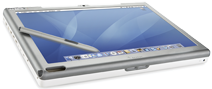 xiotron's innovative design and manufacturing integrates an Apple® MacBook® computer, state-of-the-art Wacom® pen-enabled digitizer technology and Axiotron's own brilliance to bring you the world's first Apple-sanctioned table that runs the MacOS (Leopard, to be specific). You get all the benefits you love on a Mac — and more.
Of course, you have to try it for yourself to appreciate it — so the Axiotron folks will be on hand all day with a couple for you to try.
Spotlight & Spotless

The focus is on Apple's Spotlight technology (that search thing in your menu and the engine behind "Find." Learn how it works and supplemental software that'll give you more power as a Mac user.
We have one of the best Spotlight experts for you — John Goodchild, author of the popular Spotlight companion utility, Spotless. If you use an extra external drive or two you'll appreciate learning about Spotless. If you have documents on your Mac you'll benefit from this hour.
Ten minutes of Time-Saving Key Strokes — by Bruce Brown, Mac Consultant
Special Guest Expert: Jeff Levy — the PC guru, the man with the longest running computer show on So Cal radio — live and in person.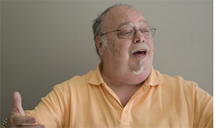 Running Windows on your Mac?
Got Windows questions?
Bring them along because PC guru Jeff Levy is ready to talk Windows for you.
[Jeff is on KRLA 870 AM Sundays from 2-4 pm.]
You may also opt to take our specially offered $99 Photography class at this time.
5:15 - 6

The Church of Mac
:)
The Rev. Doctor Bobby Newton (the "altar" ego of actor and ex-Mac Genius Tony Edwards) is the spiritual leader and techonological guide of The Church of Mac. Dr. Bobby's mission is to spread the good news that salvation is available to all who accept Apple as their personal computing platform. The Church of Mac is an irreverent spin on the culture of Apple.
"Rev Dr Bobby had the whole room calling out "Praise Steve!" and "amen brother". What a great way to top off an excellent day of information!" - an attendee
Second prize drawing
6 - 9
Dinner, social time, games, perhaps entertainment. Plenty of time to enjoy old friends and new acquaintences.
Carla's grill will be open until 7 or 7:30 pm so you can buy dinner.
Carla's Cafe will remain open until 9 for our enjoyment.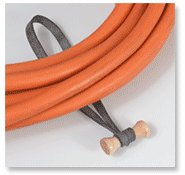 Thank you to Tim Petros and Bongo Ties.
In March everyone went home with a Bongo Tie, compliments of Bongo Ties.
We love these ties!
Simultaneous Classroom Session:
Classes will run simultaneous to the above schedule, but you are welcome to join the other sessions at your convenience.
Admission to MacDayLA is complimentary with your class fee.
For our launch we are offering one class. Starting in May we will have two or more classes for you.
2 - 5 pm
Instructor: Chuck Behrman, an established professional photographer in Los Angeles
$99, paid here online via Paypal.
Now That I Shot These Digital Photos, What Do I Do?
Photoshop/Photoshop Elements (Basic – Intermediate)
The Digital Camera/Computer Workflow – Getting your images into and out of your computer.
In this class, you will learn, through live demonstrations:
How to get your images into your computer
How and when to back up your images
Shooting in RAW vs. JPEG formats
How to correct your images for color, contrast and exposure within Photoshop
How to prepare your images for email or printing
Which color profile to use when printing your images on your desktop printer or when sending them to a lab.
You will learn how to efficiently get your images into your computer, how to easily name and store them, and how and when to back them up. We will discuss the benefits and drawbacks of shooting in RAW or JPEG formats, as well as the differences in how to handle an image that will be printed or emailed.
Remember, you do not have to purchase a $15 MacDayLA admission if you purchase this class.
In addition to live instruction, Chuck also produces an instructional CD that includes video and printed tutorials for the methods taught in the class. One copy was given away at the class. Copies will also be available for sale to all MacDayLA attendees.
 Many thanks to Cathy Scrivnor for all of the photos on this page.
This page was last updated 6/24/08.