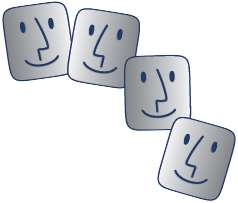 We rely on

Broadband Access
to get to
the internet because it's reliable, fast, and secure.
When we share
our access
we choose to use

You'll see
CradlePoint's MBR1000
Mobile Broadband Router
in action.
O
ur musicians
all receive
Joesoft's HEAR
so they can more
enjoy music on
their Macs
&
S
peakers will receive other helpful
software by Prosoft
Attendees asked
for a way
to donate
in order to
help us grow
so here's
the option.


~~ May Home Page • May Agenda Page • May Party Page ~~
MacDay LA™ — a full day of fun & knowledge
(from 9-9)
Things we need to learn
May 31: What You Should Know When You Use Wi-Fi
Exciting software & hardware presentations.
Active demos that actually teach. No hours of PowerPoint or Keynote.
May 31: Scott Bourne of THIP, (& Podango & more) on photography; creating a song in GarageBand; your iPhone as a travel tool.
Breakfast & Lunch Table Topics — Expert-moderated discussions.
Buy your meal, bring it to a table & join in. Bring up issues. Ask questions. Listen & learn.
We have several tables, each with an expert host. (Upcoming topics for May 31 include Meet Jeff Levy, photography with Scott Bourne, running Windows on Mac, using .mac, web browsing, Leopard, iPhoto, FileMaker Pro & Bento, AppleTV, and beginners.)
Tips — Learn valuable tips from top experts & other attendees
May 31: Spreadsheet or database, Make a Teleprompter, graphics, more
Question & Answer — with experts & audience participation to provide solutions
Visiting Vendors — A few select vendors demonstrating & selling onsite.
(Please understand this is not a expo. We produce the MacGathering™ for that.)
May 31 includes: the Scan Van, PerformerTrack software, Hawking Technologies wi-fi hardware.
Vendor Discounts — Some onsite discounts and other discount offers as well.
Apple/Mac-related news discussion — Hear about the latest in the Apple world.
Networking — Meet people who complement your business & goals.
Film-makers can meet music people, business folks can meet graphic designers, hook up with a tech person, and so on. Where else can you all come together like this.
Socializing! — Plenty of opportunities to hang out with other Mac users, vendors & experts.
Prizes! — Chances to win terrific products
Over a dozen great prizes to be won in May. Hardware thanks to RadTech, Belkin, MacAlly. Software thanks to Ettore Software, Fixamac Software, and St. Clair Software.
Plus $500 of photo prizes: Adobe Lightroom. and Apple's Aperture! (Thanks to This Week in Photography for securing this for us and to Adobe & Apple.)
PARTY! — Evening time is party time. Excellent live music, a cash bar, and cool Mac people to mix with.
When & Where
From 9am - 9pm
4th Saturday of every odd month,
except where holidays conflict.
Next Event: Saturday, May 31
(Last Sat due to Memorial Day)
Location:
CBS Studio Center — "Radford Studios"
4024 Radford Avenue, Studio City CA 91604
(Click for map & directions)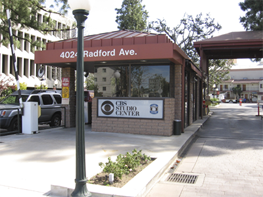 In March we had the honor of being the LA filming location for MacHEADS the movie. We look forward to contributing to it in any ways possible in the future.
Cost
General Admission: $20
or $15 in advance (cash or credit card
Children 15 and under — $5.
Note: To pay by credit card you must prepay online.
We can only take cash at the door.
Admission does not include food or drink.
Parking is free.
Admission includes entry into our prize drawing and party.
Party & Networking
Admission to the party is included.
If you can't make it until evening, join the party for $5.
Food!
Breakfast, lunch and dinner are available.
Our host, Carla's Cafe, has an excellent grill and other quality food, yet is priced comparably to fast food. Everyone there March 22 agreed.
This is not a fairground or convention center with jacked up prices. It honestly doesn't pay to cook at home or stop for a burger en route.
Things to Know
We must respect our hosts, Carla's Cafe and CBS Studio Center, so please understand that you are welcome at MacDayLA under the following conditions:
If you plan on attending, please RSVP. This makes it easier for security.
If you wish to pay by credit card please pay online from this page as we cannot take cards on site.
If you can't make it, your money isn't lost; we'll save it for the next MacDayLA you attend.
Photo ID is required for admission to the lot. Have it ready as you pull up to the gate.
By entering the studio premises, you will agree :

to respect all rules of the studio,
not to hold the studio, JCS Catering, or the MacDayLA producers or volunteers responsible for anything that may happen to you or your property while there;
to not cause problems or damages for the studio, JCS Catering, or the MacDayLA producers or volunteers;
you will personally cover any damages you may cause while at the CBS Studio Center;
to drive within the speed limit of 8 miles per hour;
to follow our signs and park only in the designated garage structure;
to approach and enter only the MacDay designated areas;
to acknowledge that wandering around the lot is not permitted and that neither MacDayLA, JCS Catering/Carla's Cafe, or CBS will be held responsible for any damages or injuries that result from your presence.

Children under 16 cannot be left unattended and should not disrupt the sessions.
You may not solicit presenters or vendors for free items.
Attendees may not sell products or services to other attendees.
Only our approved presenters and vendors may place product materials.
Please do not bring your own food or drink. There is ample food for sale at excellent prices.
If you have a dietary concern please email us so we can work with you.
No illegal substances or alcohol allowed on the premises.
No smoking in our locations. Smoking outdoors is permitted in some locations.
Let us know what you'd like to see!!!
We want to hear from you. This is your event as much as ours.
Is there a product you want us to show, a vendor you want invited?
Do you have a suggestion for a class?
Do you have a topic you'd like for Table Topics?
Let us know! Let us know! Let us know!
A word to software, hardware, and other companies
MacDayLA™ was born out of numerous requests from both Mac users and the makers/sellers of Mac-related products. We do not charge our feature presenters. In addition to featured presenters, we can host a few vendors who wish to show/sell Mac-related products. There is a small fee to do so and we must be familiar with your products and feel able to recommend them.
Interested in sponsoring or being a vendor at MacDayLA?
Please Please write to Muna.
Interested in presenting at the event?
Please write to Deborah.
Questions?
We don't want to leave you wondering so if you have a question not answered here yet, Please write to Deborah. 

This page was last updated 6/24/08.